To some people, agribusiness is a joke. Growing habanero pepper for money is even more foolish. It's a waste of time and resources.
It just isn't a career. It isn't a way to make money.
It's a hobby, a diversion, a fad that'll come and go. Sure, you can grow some peppers, but don't count on them to make you any money. That's just silly.
Those people find justification in the fact that the global average farmer is at least 60 years old, most likely dirty, with dirty fingernails and definitely with no money.
But wait,
Those people don't have the kind of information you have. Those farmers don't have access to this article you're reading right now.
And yes, I dare say that you can make a fortune from agribusiness. And yes, the journey to your fortune lies in one of the world's hottest pepper – the habanero pepper.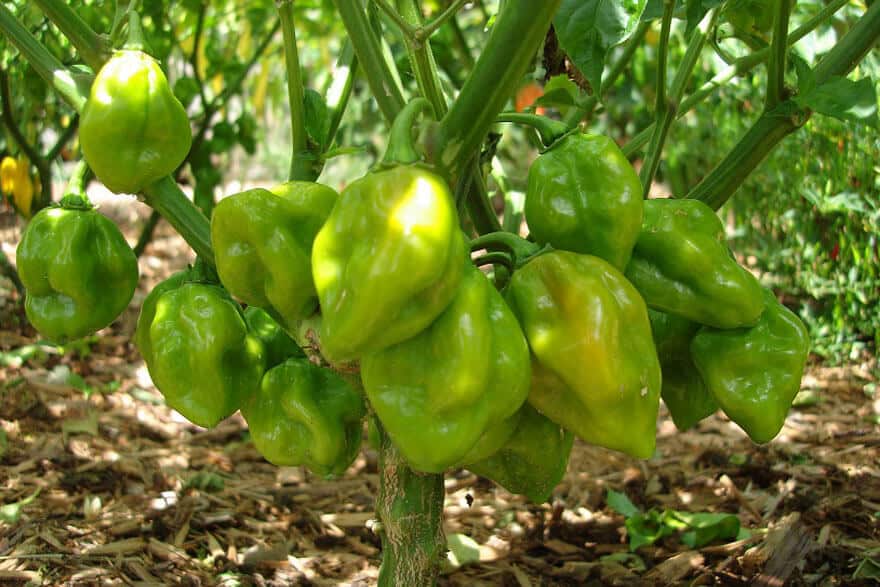 If you'll take the time to read through this post to heart, it will pay off.
Because here's the thing:
You are not a joker. You are not foolish. You can make money from agribusiness. You can make more money growing habaneros!
You want specific steps.
Fine.
Here we go.
Here's exactly how to make money growing habanero pepper.
Ecological requirements
The habanero chili pepper is a warm seasoned crop. That means that it requires relatively higher temperatures to thrive well.
For that matter, if you're in areas that experience bright sunlight in most part of the day, then you might be successful growing the habaneros.
Soil and land preparation
You'll require a well-drained loamy soil that has s good water holding capacity. The second important point is to ensure the soil PH is in the range of 5.7-6.5.
You can measure the soil PH yourself with the aid of a specialized PH meter, or send to a soil's lab near you.
Once, satisfied with your soil properties, till your land accordingly to get a proper tilth. If possible add some composted manure into the soil to improve its structure.
Compost also guarantees that the soil has a good water holding capacity and enhances a better cation exchange capacity (C.E.C).
Habanero peppers grow extremely well in raised beds.
Therefore, make raised beds spaced 1.5 to 2 meters apart from their centers and cover them with a black plastic mulch.
Whenever possible, install a drip system which has proven to utilize water efficiently and increase the yields.
Habanero pepper seeds
Your choice of seeds will determine your success. It's always advisable that you buy only high quality certified seeds. If you're in Kenya, I'd advise you to buy 'super habanero' by Amiran or your favorite stockiest.
The habanero seeds are relatively small. So, you need to start them in a nursery bed, then thin them out so that only strong healthy seedlings remain.
Once the seedlings have attained at least six mature leaves, it's time to transplant them.
Planting and mulching
As earlier mentioned, mulching is very necessary to help keep the root zone warm and conserve water. Make sure that you mulch using a black plastic mulch that can absorb and retain heat much better.
Cut the holes on the black plastic mulch and then plant your transplants. Plant your seedlings in double rows of between 35 to 45cm apart and 40 to 60cm between the plants in a row.
Typically, a one-acre piece of land should easily accommodate about 10,000 to 14,000 habanero plants.
Irrigation and fertilizer application
Habanero pepper requires a lot of high-quality water to flourish. The water consumption ranges 25 to 30 inch of water throughout the growing season or 2-3inch per week.
This is again the reason why you need to make use of drip technology as well as mulch your crop.
Ensure to water or irrigate the peppers infrequently and yet deep enough.
When it comes to fertilizer application, make a feeding recipe based on a soil analysis report.
Take your soil samples to a soils lab near you to check which nutrients are deficient or otherwise.
However, when growing the habanero pepper, the rule of the thumb is to apply Nitrogen, Phosphorus, and Potassium (NPK) at the rate of 18:18:36 kilograms per acre at planting and 18:18:32 kilograms per acre injected through the drip over the growing season.
Pest management
Most peppers like any other crops are susceptible to a number of pests. The most common disease for habaneros is the blossom end rot caused by calcium deficiency.
To prevent blossom end rot from becoming a problem, ensure that you minimize deep watering during the flowering period.
Insects are equally notorious and it's important to make use of sticky traps and insect nets in your habanero farm to keep them at bay.
Other common diseases include bacterial leaf spot, phytophthora blight, anthracnose fruit rot, bacterial soft rot and viruses such as tobacco mosaic virus and potato virus.
You can prevent these diseases by avoiding overhead irrigation, using resistant varieties, ensuring the soil is properly aerated, and practicing crop rotation between seasons.
Good agricultural practices
This is by far one of the most important points.
Remember that you're growing food for human consumption. And as such, food safety is key.
The only way to ensure that you're growing safe and high-quality pepper is by following the best agricultural practices.
Internationally producers and consumers are embracing the practices and ideals of GLOBAL GAP. It's not just a requirement but an important component in enhancing food safety.
If you are in Kenya, start by implementing Kenya GAP as a benchmark and then slowly progress to GLOBAL GAP.
Risk management
It's worth reminding you that any business venture has its own share of risks. And agribusiness is not an exception. For that matter, insure your crop against any foreseeable threats.
Additionally, all your farm equipment should be insured too.
The other way to cushion yourself against unexpected losses is by growing other crops other than the habanero pepper, just in case an epidemic against habaneros erupts.
There's always a chance.
Don't dismiss it.
Market Outlets for Habanero Pepper
What's the market potential for habaneros?
Well, practically speaking the market potential for these super-hot chili pepper is fairly huge. There exist various market outlets that you can instantly tap into.
These outlets include; wholesale grocery stores, processing companies, food services, farmer markets, convenient roadside markets, and exporters of fresh produce.
Remember that the market should always drive your decisions and strategy.
Yield, Harvesting, Precooling, and the Money!
All the hard work aside, let me show you the money.
But first, let's briefly go through the harvesting stage.
Harvesting of habanero peppers is done 2 -3 times during the entire growing season after attaining their horticultural and physiological maturity.
A mature habanero fruit is firm, edgy, deep colored and glossy.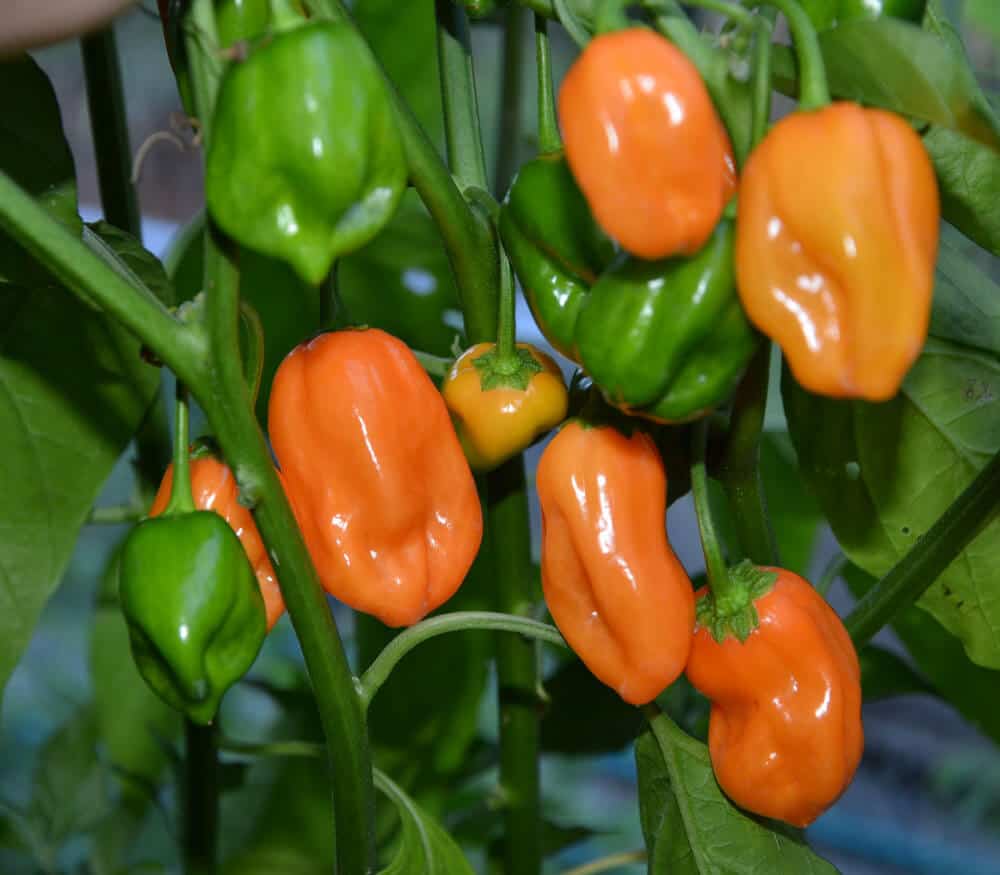 After harvesting, grade your peppers according to color, size, as well as check for any deformities or pests. Packaging and labeling should be done according to Good Handling Practices (GHP).
Then arrange for precooling as soon as possible to improve the shelf life of the fruits. Proper storage at 90 – 96% relative humidity, and under temperatures between 8-13ºC will extend the shelf life by 14 – 21 days.
According to Texas A&M University, habanero peppers yield between 4.5 to 9 tons/acre, with an average of 6.81 tons per acre.
In Kenya, the price for habanero pepper ranges between Kshs. 80 to Kshs. 120 per kilogram depending on the growing season and prevailing market demand.
Most at times, the price average is always at Kshs.100.
Let's do the math.
6.81 tons of produce per acre = 6810kgs/acre
1kg = Kshs. 100
6,810kgs = 100*6,810/1
Which equals to Kshs. 681,000 per acre in 120 days.
With an estimated production cost of Kshs.200, 000,
You make a profit of Kshs.681, 000-Kshs.200, 000 = 481,000 or $4,810 in 120 days.
Assuming you never have to lift a finger for the rest of the year, you'll still make Kshs.40,000 per month for one year!
Now, that's what I call making a fortune.
Conclusion
You've read the process of growing, caring, marketing and finally how to make a fortune growing habanero pepper.
You have two choices, the first one – dismiss this article as verbose and overly promotional or second, take action and start making a fortune while others doubt.
It's your choice.
If you can make a net profit of $4,810 in just 120 days per acre, imagine how much more you could make with let's say 5 acres or more. Don't imagine, do it.
What are your thoughts? Let me know.